Welcome to the website of the Rover Car Club of South Australia Inc.
---
The new CRS, registration scheme will affect all historic registrations.
For information on the new CRS scheme being introduced on July 1 st 2017, please refer to the 'members' page, the introduction and the CRS link.
---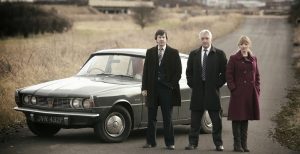 TV's Inspector George Gently traded up from the 3 litre P5 from the first series for this blue 2000 P6 in later episodes.
Presidents welcome.
Welcome to the website for the Rover Car Club of South Australia. Our Club comprises an enthusiastic group of people who share an interest and passion for all products manufactured or designed by 'Rover' and it's associated companies.
Feel free to browse these pages, enjoy our photos and history and please contact us if you wish to gather more information regarding joining our Club, or what we can offer a keen Rover enthusiast.
If you have a desire to drive and enjoy a reliable, fun and classic or historic motor vehicle, consider purchasing one of 'Britain's Finest' and come and join us!
Kind regards
President Rover Car Club

 
The RCCSA Club members magazine 'Roverdrive' is out now for July.
In this months magazine pays tribute to one of the Rover Owners Clubs colourful personalities, a comprehensive report on the Club run to the St. Kilda Tram Museum, great photos from the CVRS day, Rovers and parts for sale, and more.
---
The very last Rover to be produced was this 2005 firefox red, CDTi Rover 75 Connoisseur, now on display at the Heritage Motor Centre at Gaydon in the UK.