Welcome to the website of the
Rover Car Club of South Australia Inc.
1977 – 2017
RCCSA Celebrating 40 years of supporting one of 'Britain's Finest' cars. 
---
Presidents welcome.
Welcome to the website for the Rover Car Club of South Australia. Our Club comprises an enthusiastic group of people who share an interest and passion for all products manufactured or designed by 'Rover' and it's associated companies, and has been supporting the marque for 40 years to December 2017.

Feel free to browse these pages, enjoy our photos and history and please contact us if you wish to gather more information regarding joining our Club, or what we can offer a keen Rover enthusiast.
If you have a desire to drive and enjoy a reliable, fun and classic or historic motor vehicle, consider purchasing one of 'Britain's Finest' and come and join us!
Kind regards
Lindsey Evans-Hunter
President Rover Car Club
 Our RCCSA Club members magazine 'Roverdrive' is out now for January.
 This months magazine has a great article from our roving president as she travels Route 66 in the USA, everything you need to know about de Dion suspension, details of up-coming fun-runs and events, and more!
---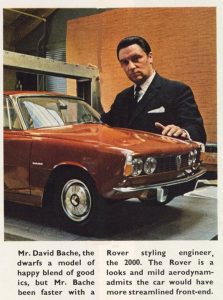 David Bache was responsible for styling cars for Rover that are still recognised as icons today. He is responsible for work on the P5, the P6 as depicted above, and the entire SD1 project. He was responsible for the detail that gave Land Rovers their distinctive shape by introducing, among other changes, the 'hip' on the series 2, that carried over to the Defenders right up to 2016. The distinctive detail changes David made to the first Range Rover are still used to identify the vehicles DNA on the current Range Rover Vogues and Sports.
---
Sadly this is the very last Rover to be produced. It is a 2005 firefox red, CDTi Rover 75 Connoisseur, and is now on display at the Heritage Motor Centre at Gaydon in the UK.