Welcome to the website of the
Rover Car Club of South Australia Inc.
1977 – 2017
RCCSA Celebrating 40 years of supporting one of 'Britain's Finest' cars. 
---
Join us for the National Rove 2020 in South Australia.
Click below for more details.
---
Presidents welcome.
Formed in 1977, the Rover Car Club of South Australia celebrated its 40th Anniversary in 2017. Since its inception it has grown in member size and is a club that is highly regarded by its peers within Australia. Over its 40-year history it has been instrumental in launching some great events here in South Australia, the main one being in 1986 when its British Breakfast would ultimately become the now famous All British Day held each February.
The club members have a great array of vehicles manufactured by Rover from the 1920s through to the last of "Britain's Finest", the '75' in 2004. The greatest number of Rovers in the club are the P5/P5B series with no less than 21 great examples. It is interesting to note that the P4 or "Auntie" model has grown to 12 fine examples. Of the post war Rover P3, which celebrates its 70th Anniversary in 2018, the club enjoys 15 of these fine vehicles in its fleet (0.2% of Rover's production!). Not forgetting the Land Rover, which also celebrates its 70th Anniversary in 2018, the club having a good representation of these from over the years.
During each year the club hosts a great cross section of 'fun runs' and events for members along with guest presenters at its monthly general meetings.
Please enjoy our website, which highlights not only our club and its activities through great stories and pictures but also "Britain's Finest" Rover vehicles. If you too share our interest and passion for these wonderfully well-engineered British motor vehicles then why not contact us with the view to joining our club.
Join us in "Rovering On"
Paul Tol
President,  RCCSA Inc.
 
Our informative RCCSA Club members magazine 'Roverdrive' out for March, with a wrap up of the All British Day event, Rover history, a warning about old axle stands, Rover Beer, and more! (No warnings about Rover Beer though!)

Members can also view all electronic editions of Roverdrive on the 'members only' page of this website.
---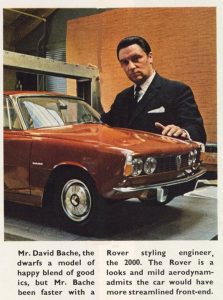 David Bache was responsible for styling cars for Rover that are still recognised as icons today. He is responsible for work on the P5, the P6 as depicted above, and the entire SD1 project. He was responsible for the detail that gave Land Rovers their distinctive shape by introducing, among other changes, the 'hip' on the series 2, that carried over to the Defenders right up to 2016. The distinctive detail changes David made to the first Range Rover are still used to identify the vehicles DNA on the current Range Rover Vogue, Sport, Evoque and Velar .
---
Sadly this is the very last Rover to be produced. It is a 2005 firefox red, CDTi Rover 75 Connoisseur, and is now on display at the Heritage Motor Centre at Gaydon in the UK.