ADVERTISE YOUR ROVER OR ROVER PARTS
BUY SELL OR SWAP.
RCCSA members and non-members can use these pages to advertise Rovers or Rover parts for sale. Advertisements will also appear in Roverdrive, the magazine of the Rover Car Club of SA. There is no cost to Club members to advertise on these pages, cost to non-members is $20.00. Advertisements must be submitted in the month prior to publication of Roverdrive.
Send your advertisement with photos to the secretary, David Bradshaw at :
Or post to :
Rover Car Club of SA Inc.
PO Box 342
North Adelaide SA 5006
Include your fee if necessary.
Please note that if you are selling a vehicle the advertisement must be placed in accordance with the Motor Car Traders regulations 1998 – regulation 22(4). Compliance for a private sale requires 'Cash price of the motor car', 'registration number or engine number'. RCCSA regrets we are unable to publish an advertisement if these requirements are not met.
Don't forget to include good quality recent photos, and please notify us as soon as your vehicle or item is sold.
---
FOR SALE
BRAND NEW ROVER P5 GRILLE

Rover P5 1965-1967 3-litre Mark 111 grille.
Brand new, never fitted to a vehicle.
In exceptional condition. Amazing opportunity.

I recently unboxed this as part of an auction lot from the mammoth Flynn auction in Queanbeyan in late 2016.  It was covered in painters masking tape to protect the chrome – probably more than 45 years ago.  It took almost a week of soaking with a blend of acetone, eucalyptus oil, rubbing alcohol – and boiling water – to remove the tape and the glue.   Then I polished it with Autosol.
Contact Graham Hunter
0418 537 777
---
FOR SALE
Rover P4 Regulator
Rover P4 (up to 1959) Voltage Regulator
Barn Find – ex Flynn Auction
$10.00 or off to the scrapper it goes
Contact Graham Hunter
0418 537 777
---
FOR SALE
ROVER P6 AND P6B PARTS
5 x late style P6-P6B hub caps, mostly in good condition with good centre badges, $60.00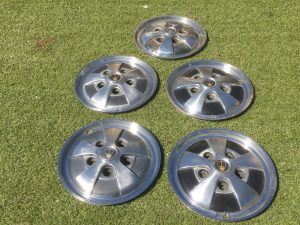 5 x early style  P6 hubcaps, good condition, just need a polish, $50.00

9 x P6 14″ wire wheels.  4 need restoration, 5 are reasonably good but could do with a fresh paint job or powder coat – $450 the lot.

Contact Graham Hunter     0418 537 777
---
FOR SALE
Rover P2 and P3 Grilles

1 x Rover P3 Grille – $60.00
Contact Graham Hunter for more details.
0418 537 777
---
FOR SALE
TWO BARN FIND ROVERS
1951 P4 Cyclops


RML783
Cream in colour
$1800 ono, non runner, comes with spare engine

1961 P5 Saloon


VYE456
Green in colour
$1800 ono, will turn over but wont start.
Both have been sitting for a long time but
are worth saving.

Contact Shaun McKenzie on
0412 370 808
---
---
FOR SALE
ROVER PARTS P4, P5/B, P6/B

Do you need parts for your Rover P4, P5/B, or P6/B?
Maybe you'd like to have that spare 'something' on hand just in case? RCCSA Members Graham and Lindsey Hunter have a large stock of bits and pieces, both NEW (NOS,OEM, REPRO) and EXCELLENT PRE-OWNED CONDITION.
No rubbish, guaranteed!
You never know – we might just have that hard to find part you are looking for.We specialise in chrome, trim, lenses, seals and gaskets, but we have much more too! So before searching on eBay, interstate or overseas, take a look at our current stock lists and buy local – you'll save on price, and freight costs as well. We aim to price all of our parts substantially below eBay and retail outlets offering excellent value for Club Members. Just phone or email us for a copy of our stock lists – they're updated regularly.  Graham 0418 537 777    Lindsey 0419 810 665    hirizer@gmail.com
---
FOR SALE
1948 ROVER P3
PRICE HAS BEEN REDUCED FOR SALE OF THIS FINE ROVER
For sale, this lovely 1948 Rover P3 6 cylinder, in a Limited Edition colour, Sundown. Genuine 50,000 miles. Fitted with sunroof and original leather seats, rear in excellent condition, front showing aged patina. Very good body, paint work and chrome. Good tyres, new fuel pump, starter motor and brakes.
This Rover has been regularly serviced and well maintained, and is in excellent condition throughout.
Registration number ROV 948, on non transferable club plates. Current owner for 6 years with genuine reason for sale.
$17,900
Please contact Graham Brammer on 0428 854 931
---
To see more Rovers and parts for sale, the following link will take you to the 'CAR MART' of the Rover Car Club of Australia.
Visit the Rover P4 Guild sale pages here:
The Rover Owners Club of NSW and ACT here :