ADVERTISE YOUR ROVER OR ROVER PARTS
BUY SELL OR SWAP.
RCCSA members and non-members can use these pages to advertise Rovers or Rover parts for sale. Advertisements will also appear in Roverdrive, the magazine of the Rover Car Club of SA. There is no cost to Club members to advertise on these pages, cost to non-members is $20.00. Advertisements must be submitted in the month prior to publication of Roverdrive.
Send your advertisement with photos to the secretary, David Bradshaw at :
or post to:
Rover Car Club of SA Inc
PO Box 1127,
BLACKWOOD, SA, 5051
Please note that if you are selling a vehicle the advertisement must be placed in accordance with the Motor Car Traders regulations 1998 – regulation 22(4). Compliance for a private sale requires 'Cash price of the motor car', 'registration number or engine number'. RCCSA regrets we are unable to publish an advertisement if these requirements are not met.
Don't forget to include good quality recent photos, and please notify us as soon as your vehicle or item is sold.
---
FOR SALE
ROVER PARTS P4, P5/B, P6/B

ROVER BARN
P4 MEGA DISCOUNT CLEARANCE SALE
Phone or email Graham & Lindsey
0418 537 777 hirizer@gmail.com

(NB: Rover Barn will be closed 1 September 2023 to 1 March, 2024)
Front indicator lens assemby        2        Part no. 259439 very good condition
$25.00 each (screw-in type, pre-1957: 60, 75)
Front indicator lamp assembly    1        Part no. 272627
NEW $35.00 (1957 onwards: 60, 80, 95, 100, (no bulb) 105, 110)
Front indicator lens                      4         Part no. 276339
NEW $6.00 each (1957 onwards: 60, 80, 95, 100, 105, 110)
Front fender sidelamp                 6         Part no. 243713
NEW $50.00 each (pre 1956: 60, 75, 90) (incl. rubber base)
Front indicator "slip seal"           12
NEW $1.00 each (1957-1964. 60, 75, 80, 90, 100, 105, 110)
Front sidelamp lens foam seal   20
NEW $2.00 each (1957-1964. 60, 75, 80, 90, 100, 105, 110)
Headlamp bulb holder & wiring  5        Part no. 274378
NEW $ 20.00 each (also for Land Rover) (Lucas BPF)
'Cyclops' steering wheel with 1 ½-moon horn ring very good condition $65.00
Rear lamp inner steel bucket     1      Lucas L558NEW $50.00( with lamp holder & 2 bulbs T2052/T2053) 16.5 cm long. Post-1955.60, 75, 90)
Rear lamp inner steel bucket    2      Lucas L558
NEAR NEW $25.00 (with lamp holder & 2 sockets T2052/T2053) 16.5 cm long. Post-1955.60, 75, 90)
Rear tail/brake light glass lens 1       Lucas 464C
NEAR NEW $10.00 (1950-1954. 60, 75) '2 bullseye'
Reverse/no. plate lamp base     1       Lucas 469
very good condition $10.00 T1996/T2830 Part no. 53097
Rear lamp chrome trim              1         264831
NEW $30.00 (1955-1964)
Rear lamp chrome trim              3        264831
NEAR NEW $20.00 (1955-1964)
Rear lamp chrome trim              1        T1801R
NEW $55.00 (1950-1954)
Side rocker cover cork gasket    7
NEW $5.00 (Pre-1959: 60, 75, 90)
Split windscreen seals 1 314028
NEW $40.00 (2 vertical seals for 3-piece windscreen)
"90" grille badge                        2
very good condition $85.00
Park/indicator reflector LHS     3
NEAR NEW $15.00 (fender-mounted 1957-1961)
Park/indicator reflector RHS     2
NEAR NEW $15.00 (fender-mounted 1957-1961)
Cluster dial: Temp/Amp; Fuel/Oil 1 very good condition $35.00 (temp. sender bulb & cable NEW) (All models 1951-1962)
Speedos, gauges, switches, knobs, warning lights ALL MODELS
ask for photos – POA
---
FOR SALE
ROVER 9 PARTS
I have a couple of old Rover items to dispose of, and thought I would give your members first option before trying elsewhere, if you would like to pass this on.  I have a 1932/33 Rover 10 roadster, which is how I have come by them.
Item 1 is a 17 inch wire wheel, off a 30's Rover as I understand.  It looks in good reasonable condition.  I am looking for $50 for it.  For the technical minded it is a 5×5 stud pattern i.e. 5 studs and 5 inches 1st stud hole centre to 3rd stud hole edge, and has a 3 inch hub hole. It was on my car as a spare when I bought it, however after looking for a long time I finally found an 18 inch original to my car; the 18 inch being much harder to come by.
The second item is a fan drive for a Rover 9.  I came by it as I converted a Rover 9 head to a Rover 10 head – at the time I could not locate a Rover 10 head, but was able to source a Rover 9 head from New Zealand. Bearing feels OK, but needs a clean up.  This is free to someone with a Rover 9.
Cheers, someone can call me if interested,
Vic Farrington
0407 619 429
---
FOR SALE
LAND ROVER DISCOVERY 4
HSE Model, 3.0 LITRE V6 Diesel.
In Immaculate condition, 7 seater (all full size seats), with loads of standard and added accessories.
Fully serviced and maintained by Mac Land Rover since new. I am the original owner. Build date: Aug 2010, first rego (me) March 2011.
Sunroof, (2, one opening), dual A/C with separate rear controls, tinted side windows, hot and cold pack from factory, limited slip differential, Auto locking rear differential in transfer case, full sized spare tyre, "proper" 4 Wheel Drive, variable height suspension, etc., etc. Too many standard features on these vehicles to mention here.
Really needs to be inspected to appreciate. Just over 200K Km.
Colour Silver / grey metallic, "Ipanena Sand". No dings at all, bodywork immaculate, carpets protected by floor mats since new, Ditto front seats with covers. New Goodyear tyres (4) late last year, A really go-anywhere vehicle for your next adventure!
Reason for sale: Getting a new one! Asking price $36,900.00. (Check online for current asking prices range from $29,500 to $46,000). Cost $127,000 new in 2011.
Contact Geoff Rogers on (08) 8365 4266.
---
FOR SALE
1959 Rover P5 3 Litre Series 1 Automatic
Probably one of the oldest registered and running P5s in the world, number 46 of export
run, left factory in June 1959.
Good paint, upholstery, and tyres, unusual vinyl roof. Fawn in colour.
Lots of engine work completed, recent new pistons and rings
On historic rego with GVVCVC
Registration number ROV 059
Photos upon request.
$10,500 ONO – 8529 2504
---
FOR SALE
1948 Rover P3 4 light saloon
Needs full restoration, lots of spares
Fitted with P4 90 motor, starts, runs, and drives. Photos upon request.
$3,000 ono – 8529 2504
---
FOR SALE
ARIEL MOTORCYCLE
Ariel motorcycle, possibly been completely renovated. I have some history and the UK
number plate, it has matched numbers and it's on SA Club registration.  Classic car and
motorcycle people said it may be worth $15000 but it cost me $12000 all up.  I would
like to see someone else enjoy it so I'm open to offers and happy to work about the Ariel. I
spent 50 years on and off looking for this model and there's still a lot in the UK and spare parts.
This one was part of a collection of 25 in Devon from 10 years ago and it did the Bay to
Birdwood last year.
Pete Friend.

---
For Sale
Continental kit to suit Rover P6B
Includes wheel & good tyre, cover, attachments, boot stay & bracket. All in v/good condition.
Also, further items for sale: choke cable $10, torsion bar ( diff to body ) g/cond. $25, ashtray
$30, new flame trap $10, carby gaskets $15, de-dion tube seals $10.

Brian 0414418298
---
FOR SALE
P6 TC 2000 PARTS
Lots of parts available , already removed from car.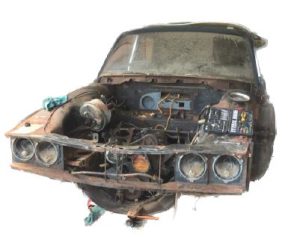 Contact Steve 0433 154 100
---
FOR SALE
ROVER SPEED 14 SALOON

A very rare Rover barn find for sale by best offer. Mechanicals are all there but dismantled. Body repairable by a rich and committed enthusiast? For more information please call Darryl Grey on
0428 280 546
---
FOR SALE
ROVER P6 AND P6B PARTS
9 x P6 14″ wire wheels.  4 need restoration, 5 are reasonably good but could do with a fresh paint job or powder coat – $450 the lot.

Contact Graham Hunter     0418 537 777
---
FOR SALE
 BARN FIND ROVER
1951 P4 Cyclops


RML783
Cream in colour
$1800 ono, non runner, comes with spare engine

Contact Shaun McKenzie on
0412 370 808
---
FOR SALE
ROVER PARTS P4, P5/B, P6/B

Do you need parts for your Rover P4, P5/B, or P6/B?
Maybe you'd like to have that spare 'something' on hand just in case? RCCSA Members Graham and Lindsey Hunter have a large stock of bits and pieces, both NEW (NOS,OEM, REPRO) and EXCELLENT PRE-OWNED CONDITION.
No rubbish, guaranteed!
You never know – we might just have that hard to find part you are looking for.We specialise in chrome, trim, lenses, seals and gaskets, but we have much more too! So before searching on eBay, interstate or overseas, take a look at our current stock lists and buy local – you'll save on price, and freight costs as well. We aim to price all of our parts substantially below eBay and retail outlets offering excellent value for Club Members. Just phone or email us for a copy of our stock lists – they're updated regularly.  Graham 0418 537 777    Lindsey 0419 810 665    hirizer@gmail.com
---
FOR SALE
1948 ROVER P3
PRICE HAS BEEN REDUCED FOR SALE OF THIS FINE ROVER
For sale, this lovely 1948 Rover P3 6 cylinder, in a Limited Edition colour, Sundown. Genuine 50,000 miles. Fitted with sunroof and original leather seats, rear in excellent condition, front showing aged patina. Very good body, paint work and chrome. Good tyres, new fuel pump, starter motor and brakes.
This Rover has been regularly serviced and well maintained, and is in excellent condition throughout.
Registration number ROV 948, on non transferable club plates. Current owner for 6 years with genuine reason for sale.
$17,900
Please contact Graham Brammer on 0428 854 931
---
To see more Rovers and parts for sale, the following link will take you to the 'CAR MART' of the Rover Car Club of Australia.
Visit the Rover P4 Guild sale pages here:
The Rover Owners Club of NSW and ACT here :