Edinburgh Truck Show
Sunday November 16th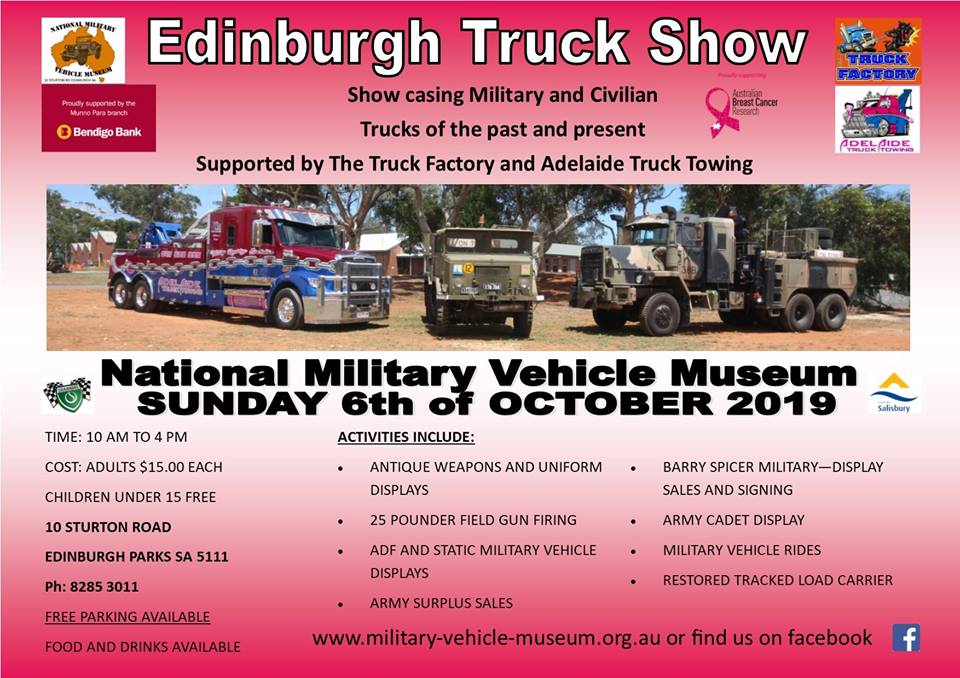 https://www.military-vehicle-museum.org.au/event/edinburgh-truck-show/
---
Bay to Birdwood
Sunday 29th September
The Bay to Birdwood is an annual historic vehicle run held in South Australia. The 2019 event is for classic and early modern vehicles (manufactured between 1956-1986) and will take place on Sunday 29 September.
The Bay to Birdwood is one of the world's great historic motoring events. First held in 1980 the event has become a fixture on the South Australian events calendar. It is a mass-participatory citizen collector historic motoring event. It draws participants from far and wide and attracts thousands of spectators to line the route and attend the start and finish events. Breakfast is available early at the start sites and then the passing parade is greeted by the spectators as it makes it way to the finish at
the Adelaide Hills township of Birdwood.
At the Finish event, there is entertainment, local produce, food and wine, children's activities and the camaraderie of participating in and celebrating this internationally renowned event. The judging of the vehicle awards takes place at the finish as well as the Fashions in the Field – where everyone has the chance to show off their finery and win great prizes.
The 2019 Bay to Birdwood will be held Sunday 29th September. This year is the Classic for classic and early modern vehicles manufactured between 1 January 1956 and 31 December 1986.
---
The Carl Lindner Collection of Jaguars
Sunday 17th November
Organiser Patrick Makin
Meet at the Gepps Cross Hotel car park as we have for other runs (corner of Main North and Grand Junction Rds) at 0900 hrs for a run start at 0930hrs. Up the Oliphant expressway to
Gawler, past the Gliding Club (remember that run?) keep going to the Tanunda turnoff. Arrive at the Carl Lindner Collection location, 55 Basedow Rd, Tanunda, for a tour to start at 1045hrs, which has been booked for the RCCSA, and where Patrick Makin, our Run Host, will meet us. Entry fee is $10.00 per person, and it is well worth the cost!! After the tour, which will finish around  1215hrs, you can take your leisure with a picnic (BYO) at the nearby park, or visit the newly opened Chocolate factory just down the road! How about a winery or two while you are in the area??
This will be a nice run to welcome the coming warmer weather, and Tanunda is just the right distance to clear out those cobwebs in our Rover's. Please advise Partick Makin or Geoff
Rogers if you intend to participate. Numbers are limited, so advise early to be placed on the list!
Any questions, please call Geoff Rogers."
---
ALL BRITISH DAY 2020 – PUT THIS IN YOUR DIARY NOW.
Check the website for more details and a great gallery from 2019 ABD