VICTOR HARBOR – SOUTH AUSTRALIA – ROVE 2020
23 – 26 October 2020
Bookmark this page to see all the ROVE information.

Click on the link to download –
Rove 2020 2nd Update, October 2019
Hi fellow Roverites,
At last winter is behind us and spring has sprung again with balmy days and lots of sunshine. We have contacted the 'Weather Gods' to request that in 12 months' time when we come together for the next National ROVE, that they smile on us. Yes, the clock is ticking with a mere 12 months or 52 weeks to countdown and we will all come together in Victor Harbor, on the beautiful Fleurieu Peninsula. Planning for ROVE 2020 has moved into high gear, and our plans are now well in hand. To kick off, included with this update is our Application Form for you to consider. The first thing is we have worked very hard to hold the cost per person at $210.00. When you consider what awaits you, and is included, over this weekend we are certain you will appreciate our work and arranging has had the desired effect. Timeline for payment of the fees is as follows;
$210.00 per adult (children's, under 16years, pricing on application)
$ 50.00 deposit per adult, required before 1st April 2020
Balance per adult by 30th June 2020.
Don't forget to send us the completed Application Form either by AusPost, or scan and email to:paul.tol@optusnet.com.au If you are paying by EFT, make sure you enter your surname in the reference, otherwise we won't know who made the payment! If space on the form is insufficient, either add this to another page, or if emailing include this within the return message. Receipts will be issued as payments are made.The subcommittee has almost completed its consideration into a range of regalia that will be available which will compliment this event "to a tee", as soon as this is completed, we will send out the details, costings and how to order.Given the overwhelming interest shown in a Post-Rove, this is under consideration with details to be released in due course
You will see that the RCCSA sub-committee has 'struck' a logo that epitomises the forthcoming ROVE2020 which will be held on the Fleurieu Peninsula, based in the historic town of Victor Harbor. Yes, there will be "Vikings at Victor".
Set out in this is our advance information in regard to events proposed for the weekend and a listing of accommodation options. We chose Victor Harbor due its historic significance in the early history of South Australia and that its location is on the picturesque Fleurieu with its stretches of beautiful beaches and scenery.
Victor Harbor is the largest town on the Fleurieu being 80kms south of Adelaide, main industries being agriculture, fishing and tourism boasting a population of 15,248 (2016 Census). During October we can expect the weather to provide highs of around 21°C with an overnight low of 10°C, perfect for "Britain's Finest", our Rovers. It is home to the iconic horse drawn tram to Granite Island, terminus for Steamranger's Cockle Train that is generally steam locomotive hauled to Goolwa, travelling along the scenic coastline via Port Elliot and Middleton.
Given the interest shown in a Post-Rove, this will be considered with details released in due course.
Draft Itinerary – subject to change.
Friday October 23, 2020
  From 5:00pm on. Registration and a relaxed finger food light dinner.
Historic Vehicle Club clubrooms,
Cnr. Jolly & Warne Streets, Victor Harbor
  Saturday October 24, 2020
    08:30am    Rovers gather at Kent Reserve, Kent Drive, Victor Harbor for marshalling and departure in model order to Warland Reserve.
    9:30am on.   Display of "Britain's Finest" on Warland Reserve, facing the Esplanade. This is   adjacent to the SA Whale Centre, National Trust Museum, Horse Tram and Ocean Street (shopping).
    11:00am   Board Steamranger's Cockle Train bound for Goolwa, light lunch will be provided.
Explore Goolwa with members of the local History Trust. Note: There will be "security marshalls" at Warland Reserve during the time attendees are away in Goolwa.
        3:15pm.  Back on board the Cockle Train for return to Victor Harbor.
       6:30pm Casual dinner at the Victor Harbor Bowling Club, right on Encounter Bay foreshore.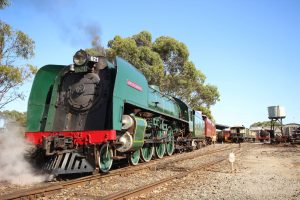 Sunday October 25, 2020
     9:00am   Gather at Kent Reserve, for a 9:30am departure for a drive through the scenic Inman and Hindmarsh Valleys. Morning tea en route.
       12:00 noon, arrive at the Southern Fleurieu Historical Museum, Wright Street & Water Lane, Port Elliot. Be driven in the historic Land Rover Train to our lunch venue in the showgrounds.  Afternoon is free.
     6:30pm   Formal Dinner in the Convention Hall, McCracken Country Club, McCracken Drive,
                                        Victor Harbor. Presentation of Awards, guest speaker.
Monday October 26, 2020
   From 8:00am Farewell breakfast at the Historic Motor Vehicle Club, Cnr Jolly and
             Warne  Streets  Victor Harbor  Post Rove departs 10:00 am
Accommodation at Victor Harbor for ROVE2020
NRMA Victor Harbor Beachfront Holiday Park
            114 Victoria St.,
            Victor Harbor 5211
            Tel. (08) 8552 1111
            Web.: https://www.nrmaparksandresorts.com.au/victor-harbor/
Victor Harbor Holiday and Cabin Park (Top Holiday Park member)
            19 Bay Road.,
            Victor Harbor 5211
            Tel. (08) 8552 1949
            Web.: https://victorharborholiday.com.au
Both the above listed parks offer a 10% discount to ROVE2020 attendees.
The Bluff Resort Apartments
            123 Franklin Parade,
            Encounter Bay  5211
            Tel.: (08) 85521200
            Web.: https://www.bluffresort.com.au/
Other accommodation options include:
Port Elliot Holiday Park (7.9kms/13 mins), Big4 member.
Goolwa Road (Middleton side of Port Elliot)
Tel. (08) 8554 2134
Web: https://portelliotholidaypark.com.au
McCracken Country Club
            McCracken Drive,
            Victor Harbor  5211
            (08) 8551 0200
            Web.: https://www.mccrackencountryclub.com.au/
Wintersun Motel
            111 Hindmarsh Road,
            Victor Harbor  5211
            Tel. (08) 8552 3533
            Web.: http://www.wintersunmotel.com.au/
In closing, we are unable to provide a registration cost as yet as pricing for 2020 has not been firmed up at many of the selected venues, however it is our intention to keep this as low as possible.
Expect more updates in the future, please let others in your club know of our plans to date…
Click on the following links for more information on Victor Harbor and accommodation-
Victor Harbor Tourist Office Official Website
Victor Harbor Accommodation
Victor Harbor Visitor Information