POSTPONED UNTIL 2021
VICTOR HARBOR – SOUTH AUSTRALIA – ROVE 2021
22 – 25 October 2021
Bookmark this page to see all the ROVE information.

Click on the link to download –
Watch this page as we update for ROVE 2021

  ROVE 2021
SA Fleurieu Peninsula    
Victor Harbor
Now October 22 to 25, 2021
 5th Update, Newsletter, July 2020
Dear fellow Roverites,
We are sure that we would all agree 2020 has been, and still is, a year like no other we have experienced. We now know what a pandemic is, and the effect it has on us all, and our lives. And we are sure you will join us in recognizing and applauding the huge effort and work undertaken by all those in our health systems, allied workforce, and governments. Australia can be justly proud. At this time, we now look forward with a renewed sense of optimism and quiet confidence, with potential of vaccines "on the horizon", let us hope our ROVE can go ahead. Decisions will be made as 2021 unfolds. Given the trials that we have encountered during 2020 an opportunity to gather and enjoy "Britain's Finest" and renew and make new friends remains an exciting prospect.
To reiterate our request made in the 4th Update Newsletter, we ask that balance payments continue
to be withheld for the time being. New dates will be decided and advised to you as 2021 unfolds. As this is our last update for 2020, we take the opportunity to send you the RCCSA best wishes, and the hope that 2021 is a year of renewed optimism, happiness, and good cheer.
As 2021 unfolds, we will continue to keep in touch with you through further updates. It would not be a ROVE without you all. We look forward to seeing you in 2021, COVID-19 virus permitting.
Keep safe and well.
RCCSA ROVE Sub-committee, December 2020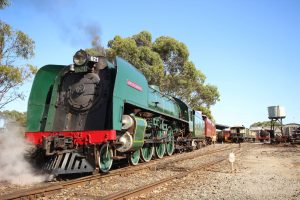 Steam Ranger at the Victor Harbor railway station.

Accommodation at Victor Harbor for ROVE2021
NRMA Victor Harbor Beachfront Holiday Park
            114 Victoria St.,
            Victor Harbor 5211
            Tel. (08) 8552 1111
            Web.: https://www.nrmaparksandresorts.com.au/victor-harbor/
Victor Harbor Holiday and Cabin Park (Top Holiday Park member)
            19 Bay Road.,
            Victor Harbor 5211
            Tel. (08) 8552 1949
            Web.: https://victorharborholiday.com.au
Both the above listed parks offer a 10% discount to ROVE2021 attendees.
The Bluff Resort Apartments
            123 Franklin Parade,
            Encounter Bay  5211
            Tel.: (08) 85521200
            Web.: https://www.bluffresort.com.au/
Other accommodation options include:
Port Elliot Holiday Park (7.9kms/13 mins), Big4 member.
Goolwa Road (Middleton side of Port Elliot)
Tel. (08) 8554 2134
Web: https://portelliotholidaypark.com.au
McCracken Country Club
            McCracken Drive,
            Victor Harbor  5211
            (08) 8551 0200
            Web.: https://www.mccrackencountryclub.com.au/
Wintersun Motel
            111 Hindmarsh Road,
            Victor Harbor  5211
            Tel. (08) 8552 3533
            Web.: http://www.wintersunmotel.com.au/
In closing, we are unable to provide a registration cost as yet as pricing for 2020 has not been firmed up at many of the selected venues, however it is our intention to keep this as low as possible.
Expect more updates in the future, please let others in your club know of our plans to date…
Click on the following links for more information on Victor Harbor and accommodation-
Victor Harbor Tourist Office Official Website
Victor Harbor Accommodation
Victor Harbor Visitor Information