ADVERTISE YOUR ROVER OR ROVER PARTS
BUY SELL OR SWAP.
RCCSA members and non-members can use these pages to advertise Rovers or Rover parts for sale. Advertisements will also appear in Roverdrive, the magazine of the Rover Car Club of SA. There is no cost to Club members to advertise on these pages, cost to non-members is $20.00. Advertisements must be submitted in the month prior to publication of Roverdrive.
Download the following form and post to :
Rover Car Club of SA Inc.
PO Box 342
North Adelaide SA 5006
Include your fee if necessary :
or email your advertisement to contact@rovercarclubsa.org
Please note that if you are selling a vehicle the advertisement must be placed in accordance with the Motor Car Traders regulations 1998 – regulation 22(4). Compliance for a private sale requires 'Cash price of the motor car', 'registration number or engine number'. RCCSA regrets we are unable to publish an advertisement if these requirements are not met.
Don't forget to include good quality recent photos, and please notify us as soon as your vehicle or item is sold.
---
FOR SALE – P5 and SD1 PARTS
P5 torsion bar gaiters (can also be used as rear leaf spring gaiters).  Brand new, unused. Members' price $20 for the pair.
SD1 Parts Catalogue, covering 2300cc, 2600cc and 3.5 litre motors.  Cover is a bit shabby, but otherwise contents in excellent condition.  Members' price $35.
SD1 driver's door  mirror in very good condition.  Grab it as a spare. Members' price $55.
Please contact Graham Hunter on :
0418 537 777
or email at : mailto:hirizer@gmail.com
20/6/18
---
FOR SALE ROVER P5
Rover P5 and assorted parts for sale. Please contact the owner directly :
Monica 0417 227 741
(Click on the photos to view)
---
FOR SALE 2003 ROVER 75
PLEASE NOTE -The price of this vehicle has been reduced to $4500
2003  Rover 75 Club
Reg No. DD259D
145000 kms  Mechanically sound, registered until 24 – 09 – 2017.
Owned only by non smokers, Arron White bodywork, and interior unmarked. Full mechanical service history available. Owner's Handbook and CD Workshop Manual provided. New battery just fitted with 2 year warranty. Some wear on white leather steering wheel cover. Reluctant sale,(due to ill health) of a most remarkable vehicle and an amazing ride.
$4500
All enquiries to Keith at :  aussiesrus_1936@hotmail .com
Location, Pennington S.A.
Click on photos to view.
---
Wanted
Front windscreen for P5/P5b coupe
If you can assist Chris by supplying or sourcing a windscreen for a P5/P5B, please call –
Chris Dallisson – Home phone 82581827 –  Mobile 0434028897
or email dallo@iprimus.com.au
---
For Sale Rover 2000 TC
Cream exterior, red interior, Manual transmission.
Extensive history with many documents from new.
vehicle originally sold new in Port Lincoln.
Recent brakes and master cylinder work.
Boot full of spares.
Reluctant sale due to down sizing.
$7,500 Neg
Contact John Lutz:
Ph 8552 5588
Mb 0417 855 558
---
WANTED – ROVER 75 or PARTS.
David is seeking a good Rover 75 and the following parts.
 Wood grain Steering wheel
Complete Tool kit
and maybe Two Blue seats for front including electrics
 David Green 07 33950784
---
FOR SALE – 1962 ROVER P4 100
Two tone grey, very good condition. Registration 'Aunty O'. Includes some spares.
Best offer over $5,000
Please contact Tony on 8566 3115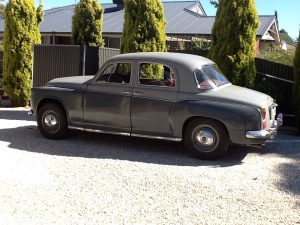 ---
FOR SALE – ROVER P4 P5 P6 and SD1 PARTS
Hub caps P4. 5.& 6.
P5 under dash tool kit. Very good condition.   MK3 manual v.g. condition
SD1 bumper & other pieces. Cheap……
Contact Tony 85663115.
---
PARTS FOR SALE : ROVER 2000 TC WRECKING
Wrecking,  Rover 2000 SC Auto, chassis no 40600383E.  The paperwork with the car says it was delivered 1/2/68 from Champions Pty. Ltd. Adelaide. In 2008 the vehicle had a collision with a car in a T-bone accident damaging the front of the car.  Prior to the accident the engine had been restored, but not started since then. I am currently attempting to dismantle the car to finally remove it from the in-laws property. If you are looking for parts please contact me, I may be able to help.
CONTACT : Don Maddern
email: donmaddern@yahoo.com.au
ph 08 83391937
mobile 0400375516
---
FOR SALE 1976 ROVER P6 3500
For sale 1976 p6 Rover,
This car is in very good condition, has been used mainly on weekends, Price $3900, although open to reasonable offers. More pictures are available. For enquiries, please call Andy on 0422280204
Registered RVR 476 and has 3 months registration remaining.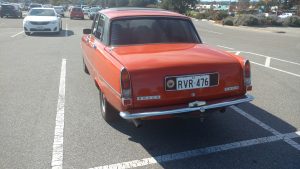 ---
WANTED TO BUY P6B RADIATOR AND HOSES
I have just  purchased a Rover P6B 3500 to replace one written off earlier November. Unfortunately the radiator is unserviceable and I need it repaired or replaced and a full set of hoses to be prepared for hot summer. Could you please contact me if you can sell me a surplus radiator you may have, or be able to refer me to a good radiator reconstruction business.
Please contact me on :
0400 375 516
Thanks , Don Maddern
---
WANTED TO BUY
Michael Whillas is seeking to buy a Rover P6 3500.
He is looking for a vehicle circa 1968 – 1970 and would prefer a vehicle in as near concourse condition as possible.
If you have a vehicle for sale or know of a P6 that fits this description, please contact Michael by email on the following address.
mailto:mcwhillas@internode.on.net
---
FOR SALE  – ROVER PARTS
SD1 –  bumper parts and gauges
P5 – Complete tool kit, a manual, and 3 hub caps from America.
Oldsmobile engine and head gasket kit for Oldsmobile engine.
Numerous 'off the shelf' parts.
Contact Tony on (08) 8566 3115 for more info and details on other parts for sale.
---
FOR SALE – ROVER PARTS
Air filter elements (new) suit Rover 825/827
Oil filter elements (new) suit Rover 825
Rover 825/827  RH headlamp (used)
Rubber dash insert, passenger side, (used) suit Rover 825/827
Contact Maris on (08) 8297 0736
---
FOR SALE – 1974 ROVER P6B
Due to moving house and running out of space I need to sell my 1974 Rover P6B.
SA. SVM 441
The car is complete and original with no restoration work previously. It is currently dismantled, but  could be rolled onto a trailer. It will need some work on the suspension as the rubbers and boots are perished. The interior is OK, but will need repairs to the seats.
Asking $1500 or will negotiate.
Call Brendon on 0414 549 896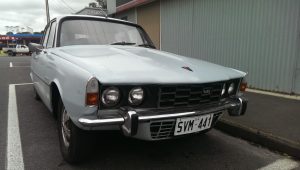 ---
To see more Rovers and parts for sale, the following link will take you to the 'CAR MART' of the Rover Car Club of Australia.
Visit the Rover P4 Guild sale pages here:
The Rover Owners Club of NSW and ACT here :