ADVERTISE YOUR ROVER OR ROVER PARTS
BUY SELL OR SWAP.
RCCSA members and non-members can use these pages to advertise Rovers or Rover parts for sale. Advertisements will also appear in Roverdrive, the magazine of the Rover Car Club of SA. There is no cost to Club members to advertise on these pages, cost to non-members is $20.00. Advertisements must be submitted in the month prior to publication of Roverdrive.
Send your advertisement with photos to the secretary, David Bradshaw at :
Or post to :
Rover Car Club of SA Inc.
PO Box 342
North Adelaide SA 5006
Include your fee if necessary.
Please note that if you are selling a vehicle the advertisement must be placed in accordance with the Motor Car Traders regulations 1998 – regulation 22(4). Compliance for a private sale requires 'Cash price of the motor car', 'registration number or engine number'. RCCSA regrets we are unable to publish an advertisement if these requirements are not met.
Don't forget to include good quality recent photos, and please notify us as soon as your vehicle or item is sold.
---
FOR SALE
1948 ROVER P3
For sale, this lovely 1948 Rover P3 6 cylinder, in a Limited Edition colour, Sundown. Genuine 50,000 miles. Fitted with sunroof and original leather seats, rear in excellent condition, front showing aged patina. Very good body, paint work and chrome. Good tyres, new fuel pump, starter motor and brakes.
This Rover has been regularly serviced and well maintained, and is in excellent condition throughout.
Registration number ROV 948, on non transferable club plates. Current owner for 6 years with genuine reason for sale.
$19,000
Please contact Graham Brammer on 0428 854 931
---
FOR SALE
ROVER PARTS
Rover parts for disposal: May 2020.
Stan Gafney has been handed a box of (alleged Rover) parts by a neighbour. Dimensions are in centimetres unless stated otherwise.  WB  = Willmott Breeden. If any of these are of interest, please let me know on 0419 832 125 or email s,gafney@bigpond.net.au.  Prices are negotiable, make an offer.  All must go.
Pic 1
1 x Bakelite swivel ash tray with demountable insert. Regd design 829 629
4 x rear lamps. Lucas 469. Condition varies.
1 x Jaeger instrument: 10.5 diameter, water temp, amps and fuel. Water temp gauge is missing. Part number X.70907/6 PA130.
4 x boot handles. 1 with key, WB 143453.
1 x door handle, WB 132233.
4 x interior light bases 10.5 x 7.
3 x rear light rim (?) 14 x 5.5.
5 x rear light rim (?) 19.5 x 7.8.
2 x sun visor swivel mounts (?) WB  7/4309/0
2 x Lucas sidelights 3.3 diameter x 8.3 long.
1½ x Freewheel control.
8 x (P4?) hub cap badges. All restorable.
2 x interior light bases 7.6 x 4.
1 x Bakelite Lucas voltage regulator cover 8.2w x 6d x 7h. Sound.
1 Wipac petrol filter 17.5 high.
1 Bakelite Lucas fuse mount SF6.
1 x windscreen wiper motor end cover (?) 740548 FR1
1 x AC rad filler cap A8 709.   7.2 diameter
5 x chrome trim strips, plain, 16 long.
5 x chrome trim strips, joggled section, 16 long.
1 x water pump spindle. Bearing outside diameter 30mm, 13.6 long
1 x Lucas lamp base L488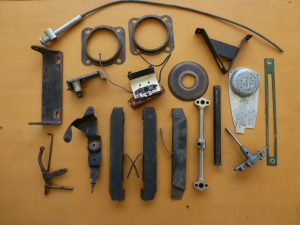 The second picture has parts that are not recognised, but includes:
Lucas (?) windscreen wiper motor cover dating from June 1955,  stamped Model DR1 12V  6 55 75234A.
Passenger side windscreen wiper drive (?) 72560D
Switched map reading (?) lamp base.
Carb lever (SU?) 4317
 Prices are negotiable, make an offer.  All must go.
100620
---
FOR SALE
1967 Rover P5 3ltr Coupe
Comprehensive history of work on engine and auto box.
For more information on this lovely P5, please call John Richardson on 0418 857 569
SA registration- WYR 069 – Price on application
160320
---
To see more Rovers and parts for sale, the following link will take you to the 'CAR MART' of the Rover Car Club of Australia.
Visit the Rover P4 Guild sale pages here:
The Rover Owners Club of NSW and ACT here :